24X24, TEXAS CONCEALED HANDGUN PROHIBITED SIGN, CLEAR VINYL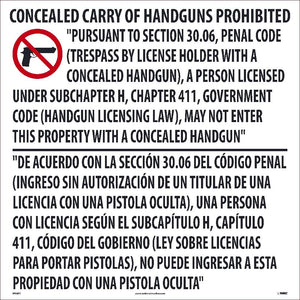 Admittance Signs ensure all areas of your workplace are clearly marked for access. These signs give direction to employees and visitors on demarcation of access, of potential hazards, and demarkation of restricted areas.

Security Signs deter unwanted visitors from your property as well as communicate security practices in and around your facility.
Model Number: M460
Wording: Concealed Carrry Of Handguns Prohibited
Sizes: 24" x 24" and 30" x 30"
Materials: Adhesive Vinyl, Plastic, and Aluminum
Manufacturer: National Marker Company
Adhesive Backed Clear Vinyl
.004 material has pressure sensitive adhesive backing and is flexible, which allows for mounting on smooth, curved or irregular surfaces. The material is long-lasting for indoor and outdoor labeling.
Rigid Plastic
.050 thick polystyrene material is ideal for long lasting indoor or outdoor use. Signs are standard with radius corners and pre-drilled corner mounting holes.

Standard Aluminum
.040 aluminum has baked-on enamel on both sides, allowing it to be printed on both sides. It is weatherproof and non-corrosive, making it ideal for indoor and outdoor use. Signs are supplied with radius corners and pre-drilled mounting holes. Excellent for placement on a wall or fence.
Signs Protected By Sign Muscle A Clear Laminate To Protect Your Signs From Graffiti, Chemicals, and Weather.