3266 Corrosive USDOT Placard Rigid Plastic | DL185R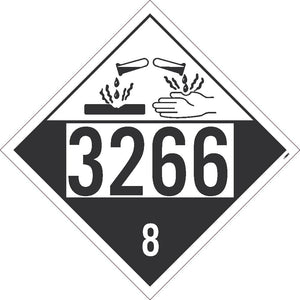 DOT Placards available in many variations. It€™s important to identify hazardous materials while in transport by marking with warning placards. Placards are 10-3/4" x 10-3/4" and must be on all four sides of the vehicle. Every placard includes the color, symbol, and name of the class into which the hazard falls. The numbers are displayed inside the placard or in an orange rectangle immediately below the placard. Need a placard that€™s more specific? Contact us today for a custom quote!
Model Number: DL185R
4-Digit Number: 3266
Placard Classification: Class 8 Corrosive - 

Corrosive

Size: 10.75" x 10.75"
Material: .050 Rigid Plastic
UOM: Each
Manufacturer: AccuformNMC
Rigid Plastic
.050 thick polystyrene material is ideal for long lasting indoor or outdoor use. Signs are standard with radius corners and pre-drilled corner mounting holes.
Signs Protected By
Sign Muscle
A Clear Laminate To Protect Your Signs From Graffiti, Chemicals, and Weather.