Danger No Trespassing English/Spanish 5"x3" Vinyl | ESD81AP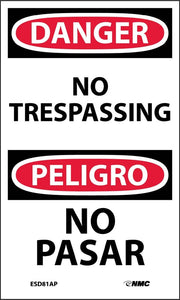 Bilingual Machine Safety Labels alert workers to the potential dangers associated with heavy machinery or equipment. Reduce workers' comp and prevent injury by clearly identifying machine hazards and procedures. All machine safety labels are protected by our liquid laminate Sign Muscle for free, so you don't have to worry about fading, scratches, or chemical & UV damage.  Every machine safety label can be customized, so if you need something more specific, give us a call today for your custom quote.
Bilingual Labels Spanish is the second-largest spoken language in the United States, after English. In todays workforce, it is common to have a combination of English and Spanish speaking employees working together. Post Bilingual or Spanish signs to communicate safety throughout your entire facility.

Model Number: ESD81AP
Wording: Danger No Trespassing
Language: English and Spanish
Size: 5" x 3"
Material: .004 Vinyl
Availability: Ships in 2-3 Business Days
Manufacturer: AccuformNMC
Adhesive Backed Vinyl
.004 material has pressure sensitive adhesive backing and is flexible, which allows for mounting on smooth, curved or irregular surfaces. The material is long-lasting for indoor and outdoor labeling.
Signs Protected By Sign Muscle A Clear Laminate To Protect Your Signs From Graffiti, Chemicals, and Weather.