Padlocks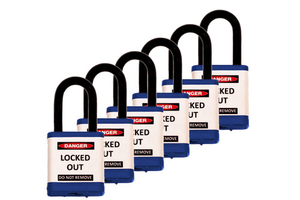 Padlocks are made from high-performance recycled materials, and are designed to withstand the rigors of industrial workplaces. Unique wraparound design allows bilingual labels on standard-sized padlocks, eliminating the need for long, bulky lock bodies.  Available as keyed different or keyed alike; and 1.5'' or 3'' shackles. Custom keyed locks are also available on request. 
700 Series Locks durable and versatile locks for standard lockout application. 700 Series locks feature a solid recycled aluminum body and a plastic-encased hardened steel shackle, uniting durability with dielectric properties.
800 Series Locks designed for extreme environment lockout situations. Featuring a stainless steel shackle, 800 Series locks excel in environments with frequent washdowns including food manufacturing, oil rigs, and mining.
Aluminum Padlocks prevent accidental energization of equipment during maintenance or repair. The padlock body is made of lightweight, non-sparking, and non-magnetic recycled aluminum, and the shackle is made from hardened alloy steel with a protective plating for corrosion resistance. The padlock is UL Validated for recycled content.
RecycLock Safety Padlocks feature a 70% recycled aluminum body with a fully insulated protective covering. The lock contains no PVC and uses food industry approved lubricants. The precision 6-pin cylinder has key-retaining and auto-locking functions. Padlocks are UL Validated for recycled content, which substantiates material compliance with various green codes, standards, and procurement policies.
_________________________________________________________________________________________________________________