Danger Do Not Close Lockout Tags | LOTAG39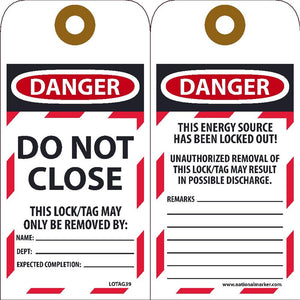 Use Lockout Tags to prevent accidental or unexpected start up or release of stored energy when working on equipment and machinery. Stock products are available in unrippable vinyl, encased lamination, or €˜jumbo€™ self-laminated tag material.
Model Number: LOTAG39
Size: 6" x 3"
Material: Unrippable Vinyl With Grommet
.015 Unrippable Vinyl
Chemical resistant and is ideal for any industrial tag application.
_________________________________________________________________________________________________________________