RecycLockout Double Breaker Lockout, Universal 3 Pack | 7111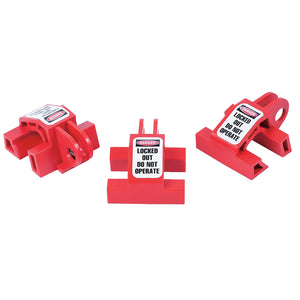 Universal Multi-Pole Circuit Breaker Lockout can be securely mounted to a wide range of breakers (120/277 voltage). Lockout fits double and triple pole switches .3" - .6 " high, .35" - .44" deep, with or without a hole, and will accommodate 1 padlock with shackles up to a 9/32" diameter. The device is made in the USA from recycled plastic and measures 2"L x 1-5/8"W x 1"H.The device includes a label which reads, "DANGER LOCKED OUT DO NOT OPERATE." Sold 3/pack.
Zing circuit breaker lockouts are UL Validated for recycled content, and support sustainability initiatives and LEED credits.
_________________________________________________________________________________________________________________