SOCIAL DISTANCING POSTER, 18 x 12 PAPER, 5PK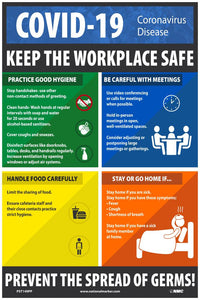 PST149 - Covid-19 Keep The Workplace Safe Safety Posters create a clear directive for any situation requiring social distancing for your workplace or retail location with social distancing posters.
Materials
Poster Paper Light-duty, short-term solution when the need to convey an important message may be temporary.
Heavy-Duty Poster Paper synthetic paper material (with no pulp content) provides durability and excellent visibility with a professional finish.
Sizes 18" x 12" and 24" x 18"
Availability Usually Ships In 2 Days or Less
Manufacturer National Marker Company