700 Series Keyed Alike Lockout Safety Padlock | 700KA-ORANGE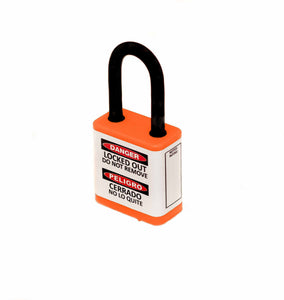 700 Series Orange Safety Lockout Padlock - Keyed Alike - 1.5" Shackle | 700KA-Orange
The 700 Series Safety Lockout Padlocks are the most flexible and comprehensively applicable padlock on the market. The lock features a solid aluminum body with a hardened steel shackle for dependable industrial performance. Custom master keyed locks are also available. One key included per OSHA guidelines.
700 SERIES FEATURES

Unique body design features bilingual wraparound labels.
Zing locks are the only lockout padlock that can accommodate a bilingual label on a standard size padlock.
Shackle inserts feature a barrier cap, which protects the lock body and interior from dirt and moisture.
Solid aluminum body with a hardened steel shackle.
The body and shackle are encased in recycled plastic for extended durability and dielectric properties.
The 6-pin lock mechanism provides dependable security with key-retaining and auto-locking functions.
Availability: Ships In 5 Working Days from Oswego, IL