Chemical Labeling Requirements Eco GHS Poster | 6037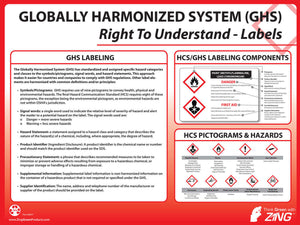 GHS Labeling Poster helps employees understand critical aspects of the Globally Harmonized System (GHS). The poster provides an overview of GHS labeling, a visual example of a GHS label and its components, and a comprehensive list of HCS pictograms. The poster is designed to supplement GHS training programs, and can be used in conjunction with other Zing SDS products, including training stations and binders. The poster is made in the USA from recycled plastic, and measures 18"H x 24"W.
Zing posters are UL Validated for recycled content and made in the USA.