Electrical Wall Switch Lockout Set | 7393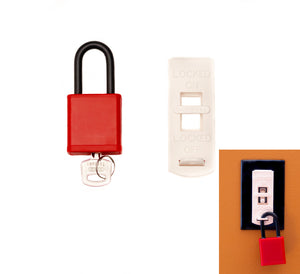 The 7393 lockout set includes everything you need to prevent light switches and other toggle switches from being turned on or off while the device is applied. The set includes a switch lockout device, made in the USA from durable recycled plastic, and a rugged, indoor/outdoor recycled aluminum padlock.
Prevents access to light switches and other toggle switches.

Ideal for applications like switch-controlled sump pumps, security lights or systems, air conditioning service switches or other applications in which continuous power is required.

Includes indoor/outdoor padlock.

Rugged recycled plastic lockout device will not rust or corrode.

Device uses the existing wall plate screws to securely attach over the switch.
_________________________________________________________________________________________________________________