Pull Handle Butterfly Valve Lockout | 7514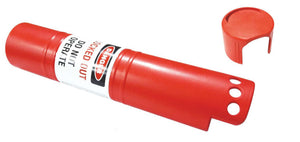 The Pull Handle Butterfly Valve Lockout provides an easy-to-use lockout solution for butterfly valves. According to OSHA regulations, energy isolation points like butterfly valves must be locked out during maintenance and repair. This device installs in 4 simple steps:
(1) Place the cylinder over the pull handle.
(2) Place the end cap over the valve stem.
(3) Connect the cylinder to the end cap.
(4) Lockout with a lockout padlock.
The device is resistant to cracking, abrasions, heat, and cold. It can be used for indoor or outdoor applications.