Wire Rack Kit, White Wire Rack and 3" Ring SDS Binder | 6069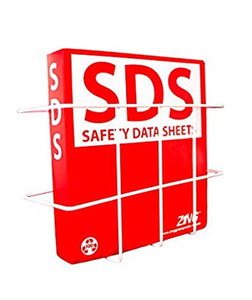 SDS compliance kit prominently stores important safety information. The kit consists of a white powder-coated steel rack and a durable binder for storing safety data sheets.
SDS Wire Rack prominently stores safety information. Ideal for storage of SDS binders, or any safety procedures which require use near a job site. The wire rack is made in the USA from high-quality recycled steel, and measures 9"H x 14"W x 4.5"D. Recycled materials support sustainability initiatives and LEED credits. Mounting hardware is included
ZING SDS Binder (part # 6032) stores important safety and training documents and supports compliance with OSHA's GHS/Hazard Communication requirements. The binder is made in the USA from recycled plastic, and measures 12"H x 12.5"L x 3.5"W. The heavy-duty plastic construction is durable, chemical-resistant, and easy to clean. The binder includes a 3" ring assembly, which holds up to 600 sheets.